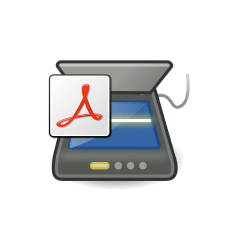 Gscan2pdf, GTK tool to produce PDF / DjVu from scanned document, released version 2.5.6 with stability improvements. Here's how to install it in Ubuntu.
Gscan2pdf 2.5.6 release highlights according to the changelog:
Prevent Negate from changing the alpha channel.
Avoid image corruption with colour images when applying WhiteThreshold after BlackThreshold.
Extended edit profile functionality in scan dialog to current scan options, when no profile selected.
Don't try to compress log file if it wasn't created.
Don't blacklist empty device name
Improve layout of multiple message dialog.
Don't use tiff2pdf to create temporary PDF to check for pdftk.
Fix --import option.
Fix updating extended page numbering on scan dialog after changing document
Fix printing.
Set "wait" cursor while scan options are being loaded and "progress" cursor while scanning.
Use gtk-3 cursors for ImageView widget
Ghost scan button while scan options are being loaded and scanning.
Fix bug storing responses from multiple message window when no responses had been stored before.
How to Install gscan2pdf 2.5.6 in Ubuntu:
The official Ubuntu PPA has made the new release packages for Ubuntu 16.04, Ubuntu 18.04, Ubuntu 19.04 and their derivatives.
1. Open terminal either by pressing Ctrl+Alt+T on keyboard or by searching for 'terminal' from application menu. When it opens, run command to add the PPA:
sudo add-apt-repository ppa:jeffreyratcliffe/ppa
Type user password (no asterisk feedback due to security reason) when it prompts and hit Enter.


2. For those who have a previous release installed, upgrade it through Software Updater: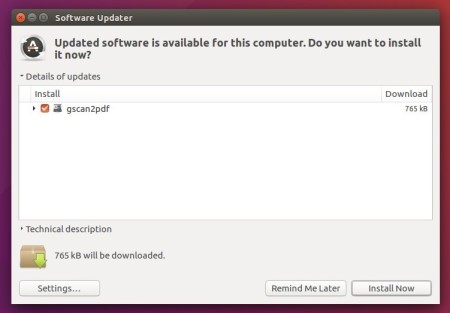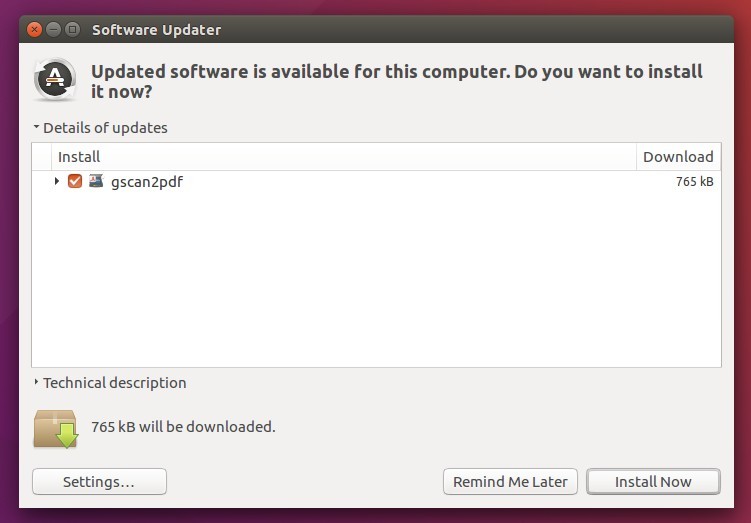 For the first time, you can either install it via Synaptic Package Manager or by running following commands in terminal:
sudo apt-get update

sudo apt-get install gscan2pdf
How to Remove:
To remove gscan2pdf, either use your system package manager or run command:
sudo apt-get remove --autoremove gscan2pdf
And the PPA can be removed via Software & Updates utility, under Other Software tab.