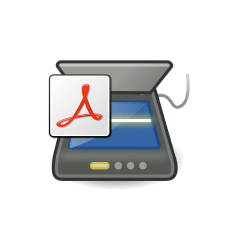 Gscan2pdf, a graphical tool to produce PDF / DjVu from scanned document, released version 2.6.5 with some bug fixes and improvements. Here's how to install it in all current Ubuntu releases.
As a new monthly release, Gscan2pdf 2.6.5 includes following changes:
Fixed bug when editing page number causing page to deselect and thumbnails to scroll to top of list
Use a scrolled window in the multiple message dialog to prevent it from growing too large.
Use the "Don't show these messages again" checkbox to switch the checkboxes for the individual messages. Set the button inconsistent if the states are not all the same.
Fix warning message about pdftk (again) by making sure that user-defined tmp directory is available in time.
Improve responsiveness with OCR output (again)
Select # pages = all when switching from reverse->facing.
Show "waiting" cursor for longer to prevent scans from being started before all options applied.
Respect 'Use timezone from locale' option when setting file system timestamp
Updated translations.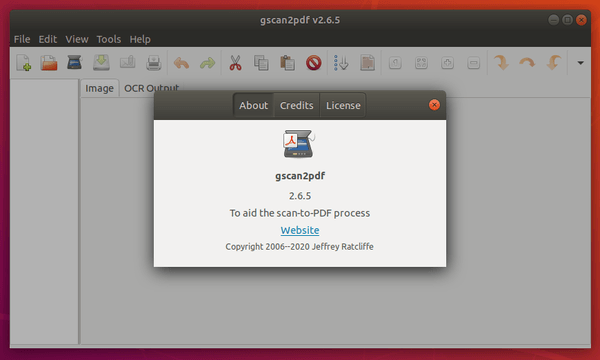 How to Install gscan2pdf 2.6.5 in Ubuntu:
The official Gscan2PDF PPA has made the new release packages for all current Ubuntu releases, and their derivatives, including Ubuntu 16.04, Ubuntu 18.04, Ubuntu 19.10, Ubuntu 20.04, Linux Mint 18.x and 19.x
1. Open terminal either by pressing Ctrl+Alt+T on keyboard or by searching for 'terminal' from application menu. When it opens, run command to add the PPA:
sudo add-apt-repository ppa:jeffreyratcliffe/ppa
Type user password (no asterisk feedback due to security reason) when it prompts and hit Enter.


2. For those who have a previous release installed, upgrade it through Software Updater: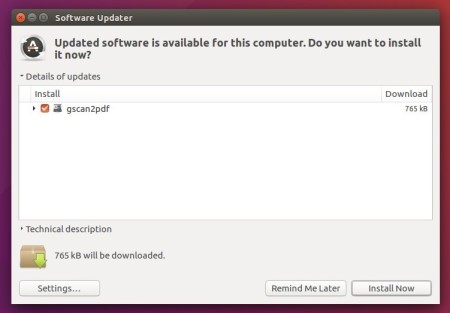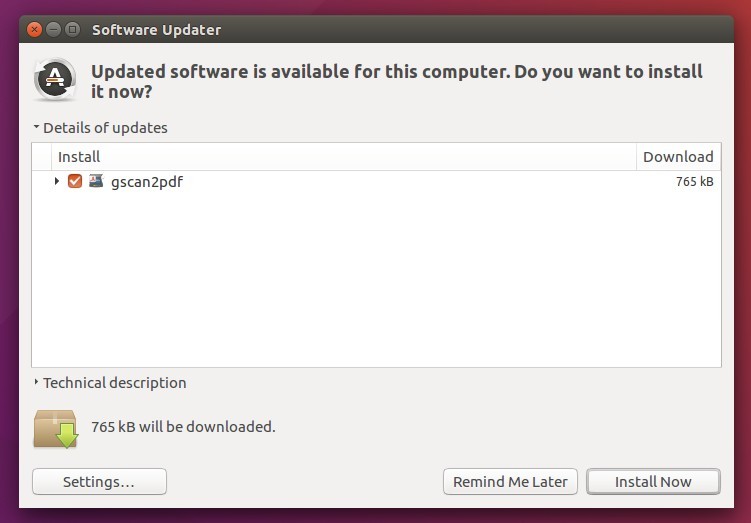 Or run following command in terminal to install or upgrade the software:
sudo apt update && sudo apt install gscan2pdf
How to Remove:
To remove gscan2pdf, either use your system package manager or run command:
sudo apt-get remove --autoremove gscan2pdf
And the PPA can be removed via Software & Updates utility, under Other Software tab.