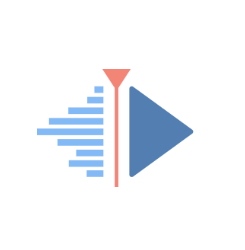 KDE announced its December 2020 apps update including Kdenlive 20.12 two days ago. Here's how to install it in Ubuntu via PPA.
Kdenlive 20.12 is a big release with many new features, stability improvements, various mix and transition fixes. While it's not officially announced at the moment in the Kdenlive.org, here are some changes according to KDE's announcement:
Allow moving subtitle through subtitle widget.
Add shortcut in/out/delete buttons to subtitle widget.
Add option to export subtitle file.
Add menu for subtitle clips.
Add subtitle import function
Add function to delete all subtitles from subtitle model.
Add timeline ruler menu item to create subtitle clip.
Add button in timeline toolbar to enable subtitle editing.
Add timeline tractor to Subtitle Model to attach subtitle filter.
Port to QtWebEngineWidgets.
Added multiple track deletion feature.
Qtcrop effect: make radius animated.
Add method to easily reload a custom effect.
Add comments feature in custom effects.
Make start and end position of subtitle editable.
Add GPU profiles provided by Constantin Aanicai.
Add MLT's Pillar Echo effect.
Add signals and slot to subtitle model.
Add class to handle subtitles definition and comparison.
Add SSA Parser.
Add srt parser to model.
Rewrite audio thumbnails to only use FFmpeg's data and optimize memory usage on creation.
Add avfilter eq filter, allows to adjust image brightness, contrast, saturation, gamma all in one effect.
Update Audio, Editing and Color layouts.
Add Effects layout.
Improve audiomixer layout.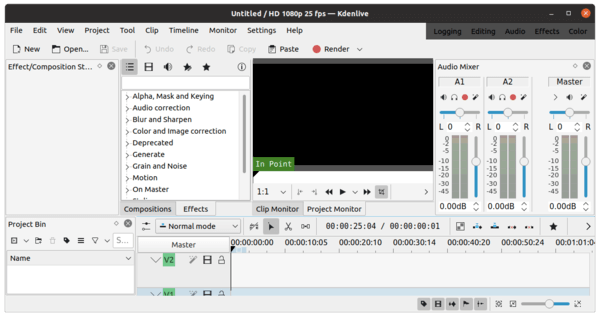 How to Install Kdenlive 20.12 in Ubuntu 20.04, Ubuntu 20.10:
The kdenlive team ppa has built the latest packages for Ubuntu 20.04, Ubuntu 20.10, Linux Mint 20.
1.) Open 'terminal' from your system application menu, and run command to add the PPA:
sudo add-apt-repository ppa:kdenlive/kdenlive-stable
Type your password when it asks (no asterisk feedback) and hit Enter to continue.

2. ) If an old version of kdenlive was installed, upgrade it via Update Manager: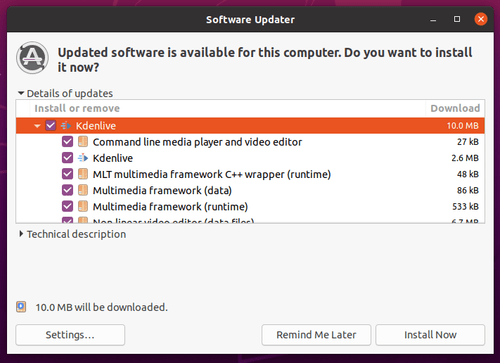 Or simply run command in terminal to install the video editor:
sudo apt install kdenlive
NOTE for non-KDE users, Kdenlive will be installed along with a large list of KDE libraries.
Uninstall:
To purge the PPA as well as downgrade Kdenlive package, run command in terminal:
sudo apt install ppa-purge && sudo ppa-purge ppa:kdenlive/kdenlive-stable
To remove the PPA only, run command:
sudo add-apt-repository --remove ppa:kdenlive/kdenlive-stable
And to remove Kdenlive, run command:
sudo apt remove --autoremove kdenlive kdenlive-data