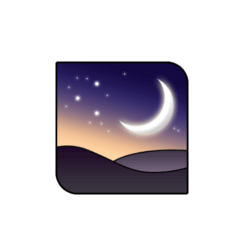 Free-software planetarium Stellarium 0.20.0 was released a few days ago. Here's how to install it in Ubuntu 18.04, Ubuntu 19.10, and Ubuntu 20.04.
Stellarium 0.20.0 brings GUI refactoring and updating, code refactoring (related to Solar system), and many improvements in the code of plugins.
Changes in the release include:
Added Almagest skyculture
Added support INDIGO for Telescope Control plugin
Added displaying last updated TLE for users
Added a SIMBAD lookup name query to the Search Dialog
Added Cross-origin (CORS) support to Remote Control plugin
Slightly improves rendering of Saturn viewed from Pan
Allows arbitrary viewpoints by keyboard action
Added new nomenclature items
Added new type of planetary feature
Added German set of navigational stars
Added comet C/2019 Y4 (ATLAS) as potential superbright comet (a Great Comet)
There are also tons of other new features and bug-fixes. See release note for details.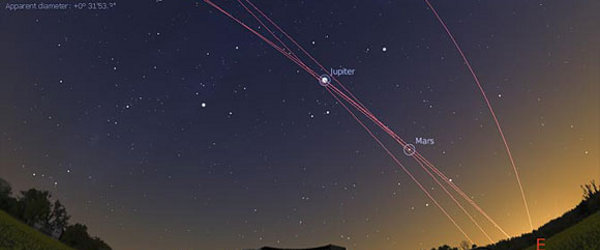 How to Install Stellarium 0.20.0 in Ubuntu:
1. Open terminal either by pressing Ctrl+Alt+T on keyboard or by searching 'terminal' from application menu. When it opens, run command to add the official PPA:
sudo add-apt-repository ppa:stellarium/stellarium-releases
Type user password (no asterisk feedback) when it prompts and hit Enter.

2. Then either upgrade Stellarium from an old version with Software Updater utility: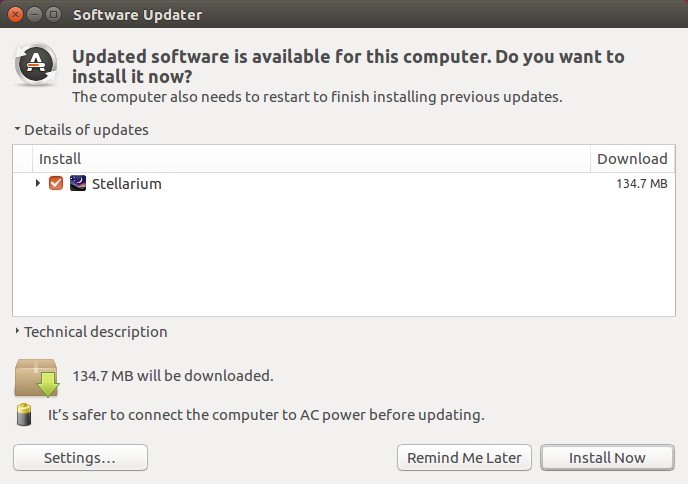 Or run following commands to install or upgrade the software from terminal:
sudo apt update

sudo apt install stellarium
Uninstall:
To remove the software, either use your system package manager or run command:
sudo apt-get remove --autoremove stellarium
And remove the PPA via "Software & Updates" utility under Other Software tab.