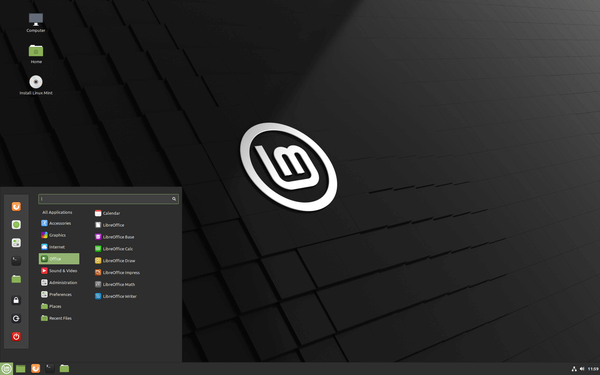 Linux Mint 20.1, code-name "Ulyssa", was officially released. It includes Linux Kernel 5.4, based on Ubuntu 20.04, and features Xfce 4.14, Cinnamon 4.8, and MATE 1.24 for each desktop edition.
Linux Mint 20.1 is a long term support release which will be supported until 2025. New features in the release include:
Web App manager to turn any web page into desktop application.
A new IPTV Player, Hypnotix
Favorites support in Nemo file manager, Xed, Xreader, Xviewer, Pix and Warpinator.
Removed ippusbxd, printing and scanning work the same way as in Linux Mint 19.x.
Updated to HPLIP 3.20.11.
Hardware video acceleration enabled by default in Celluloid.
The driver manager was migrated to PackageKit.
Added Chromium browser package to the repository.
Clock format in the login screen is configurable.
A unified filesystem layout, superb collection of backgrounds, and more.
Linux Mint 20.1 system requirements:
1GB RAM (2GB recommended for a comfortable usage).
15GB of disk space (20GB recommended).
1024×768 resolution (on lower resolutions, press ALT to drag windows with the mouse if they don't fit in the screen).
Download / Upgrade to Linux Mint 20.01:
For the official announcements as well as iso images download link, simply go to LinuxMint.com.
To upgrade from Linux Mint 20 to Linux Mint 20.1:
1. Use TimeShift to create a system snapshot, so you can easily restore your system if anything goes wrong.
2. Disable your screensaver, and upgrade installed Cinnamon spices (applets, desklets, extensions, themes) from System Settings.
3. Open Update Manager and click on the Refresh button. If there are updates for mintupdate or mint-upgrade-info, apply them.
Then go to menu "Edit->Upgrade to Linux Mint 20.1 Ulyssa" to launch system upgrade.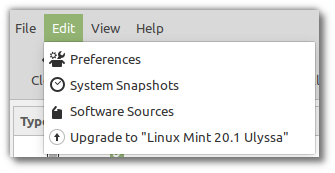 Follow the wizard and reboot once the upgrade is finished.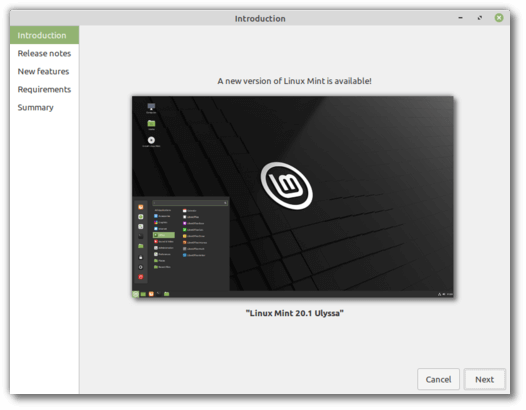 4. (optinal) To convert the system with usrmerge, simply run command:
sudo apt install usrmerge