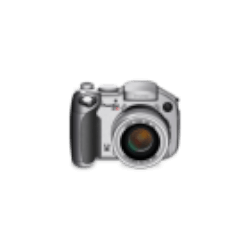 Looking for a lightweight photo editor and management app for Linux? Try Fotoxx, a free and open-source software which is super fast.
Fotoxx is a GTK application to organize and manage a large image collection, edit and optimize photos, and perform batch operations.
Unlike other image editor, Fotoxx has app menus in the left pane with ability to toggle file view, and edit photos. While providing many functions to meet the needs of serious photographers, it remains fast and easy to use.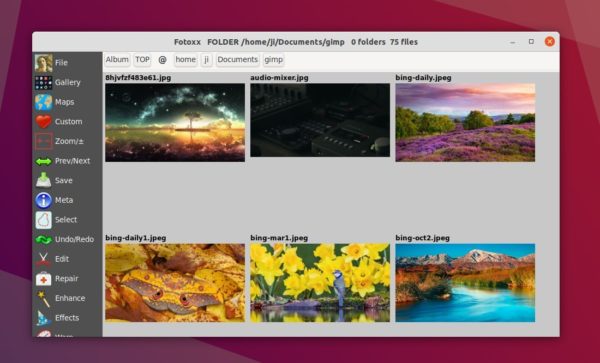 The software can view and edit most image formats including RAW files. It works internally with 24-bits/color, and outputs 8 or 16 bits/color JPEG, PNG, or TIFF.
The image editing functions include:
Select object or area, select hairy or irregular edge, find gap.
Rotate, crop, retouch, resize, and paint.
Blur, sharpen denoise, adjust color.
Apply effects, e.g., sketch, cartoon, line drawing and more.
image warp, unwarp, transform.
Composite image: HDR, HDF, panorama, etc.
Batch convert, RAW conversion.
View and edit meta data.
Zoom in/out, redo/undo, and more.
Use GIMP, Rawtherapee, etc as plugins
See video about Fotoxx:
How to Install The Latest Fotoxx in Ubuntu via PPA:
The software offers only source tarball available to download at the link below:
Ubuntu has the photo manager in the Software App, however it's always old.
To install the latest Fotoxx, use the Ubuntu PPA which so far supports for Ubuntu 20.04, Linux Mint 20, and Ubuntu 21.04.
1.) First open terminal from system app launcher. When it opens, run command to add the PPA:
sudo add-apt-repository ppa:xtradeb/apps
Type user password, no asterisk feedback, for sudo prompt and hit Enter to continue

2.) Next run command to install the photo management software:
sudo apt install fotoxx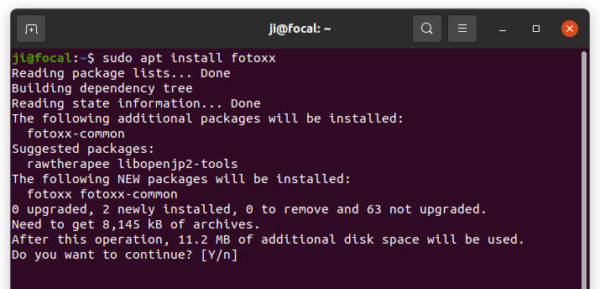 Once installed, open it from system app launcher and enjoy!
Remove Fotoxx as well as the PPA:
To remove the Ubuntu PPA, simply open Software & Updates utility and navigate to Other Software tab. There highlight the relevant line and remove it.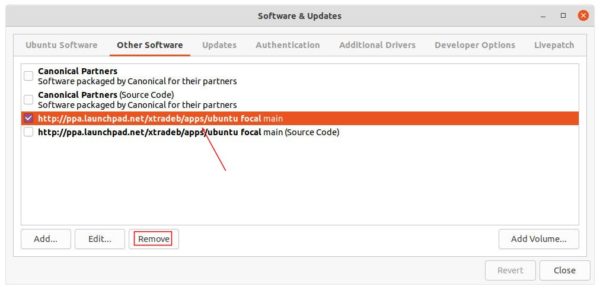 To remove Fotoxx, run command:
sudo apt remove --auto-remove fotoxx