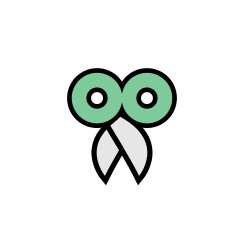 CopyQ, an open-source clipboard manager with editing and scripting features, released version 3.9.3 a few days ago. Here's how to install it in Ubuntu 16.04, Ubuntu 18.04, Ubuntu 19.04, and Ubuntu 19.10.
CopyQ 3.9.3 features new loadTheme() script function loads theme from INI file. And there are also following changes in the release:
Currently selected item stays on top on PageUp/Down
Skips using a command from a disabled plugin
Logs information on slow menu filters and display commands
Fix taking screenshots on multiple monitors
Fix duplicate show/hide tray menu items
Fix moving synchronized items to top when activated
Performance improvements and other fixes.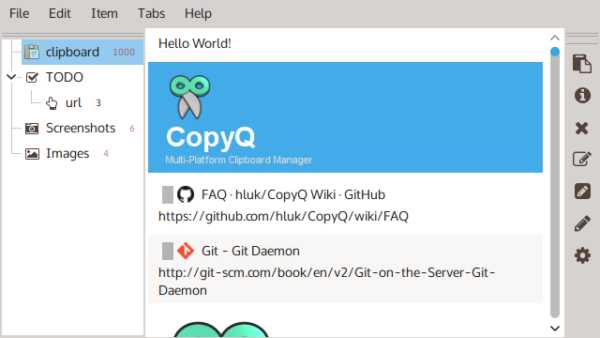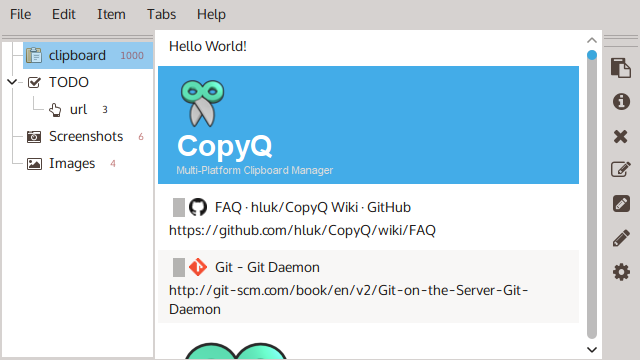 How to Install Copyq 3.9.3 in Ubuntu:
The official PPA repository has made the latest packages for Ubuntu 16.04, Ubuntu 18.04, Ubuntu 19.04, Ubuntu 19.10, and Linux Mint 18.x, 19.x.
1. To add the PPA, open terminal (Ctrl+Alt+T) from application menu and run command:
sudo add-apt-repository ppa:hluk/copyq
Type user password (no asterisk feedback due to security reason) when it prompts and hit Enter to continue.


2. Then install CopyQ either via Synaptic package manager or by running commands in terminal:
sudo apt-get update

sudo apt-get install copyq
Once installed, start the clipboard manager from application menu and you'll see the icon in system tray area.
Uninstall:
To remove the software, either use Synaptic package manager or run command:
sudo apt-get remove --autoremove copyq
To remove PPA repositories, launch Software & Updates and navigate to Other Software tab.