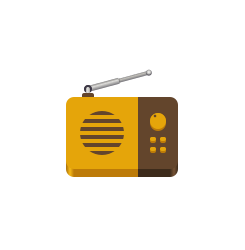 Shortwave, an internet radio player desktop application for Linux, released its first stable version 1.0 today. Here's how to install it in Ubuntu 18.04 and higher.
Shortwave is a new desktop radio app for Linux built with Rust. It provides access to a station database with over 25,000 stations. It features:
Create your own library where you can add your favourite stations
Easily search and discover new radio stations
Automatic recognition of songs, with the possibility to save them individually
Responsive application layout, compatible for small and large screens
Play audio on supported network devices (e.g. Google Chromecasts)
Seamless integration into the GNOME desktop environment
Import stations from Gradio.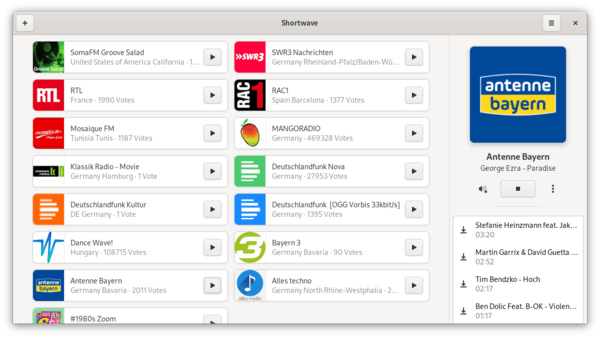 How to install Shortwave in Ubuntu:
For Ubuntu 18.04 and higher, Shortwave radio player can be easily installed via Flatpak from flathub repository.
First do following steps to setup flathub repository if you're first time installing a flatpak package in Ubuntu:
1.) Open terminal either from system application menu or by pressing Ctrl+Alt+T on keyboard. When it opens, run command:
sudo apt install flatpak


2.) Add the flathub repository which hosts the flatpak package:
flatpak remote-add --if-not-exists flathub https://flathub.org/repo/flathub.flatpakrepo


Then install Shortwave flatpak package via command:
flatpak install flathub de.haeckerfelix.Shortwave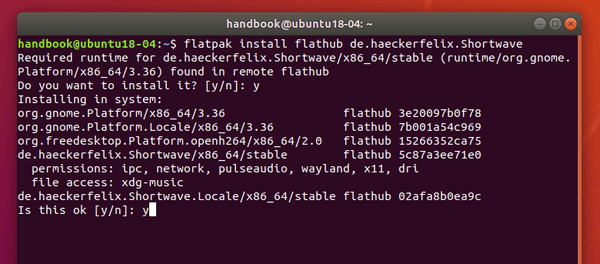 Once installed, launch the internet radio player from your system application menu and enjoy!
(Optional) To remove Shortwave, simply run command in terminal:
flatpak uninstall de.haeckerfelix.Shortwave