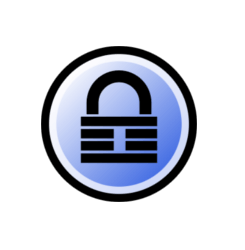 KeePass password manager 2.42 was released a few hours ago with many enhancements, improvements and bug-fixes.
KeePass 2.42 release highlights:
Added 'Group', 'Entry' and 'Find' to main menu, and removed 'Edit'.
System-wide hot key (Ctrl+Alt+Shift+A) to auto-type only the password of a matching entry.
Shift+double clicking URL copy link to clipboard.
Added quick edit commands 'Expires: Now' and 'Expires: Never'.
Added support for importing Steganos Password Manager 20 CSV files.
Added support for importing Bitwarden 1.12 JSON files.
Added support for importing tags and keywords for Mozilla Bookmarks JSON import
Two commands for copying a whole entry to the clipboard: 'Copy Entry (Encrypted)' and 'Copy Entry (Unencrypted)'.
Added Ctrl+Shift+P shortcut for printing the currently selected group.
Added 'Cancel' command in the context menu of KeePass' system tray icon.
And various other improvements and bug-fixes.
How to Install the Latest KeePass in Ubuntu:
As usual, the PPA will update the new release packages a few days later. CHECK THE PPA LINK before getting started following steps.
1. Open terminal via Ctrl+Alt+T or by searching for "Terminal" from app launcher. When it opens, run following commands to add the PPA:
sudo add-apt-repository ppa:jtaylor/keepass
Type user password (no asterisk feedback due to security reason) when it asks and hit Enter to continue.


2. Then upgrade KeePass password safe via Software Updater if you have a previous version installed: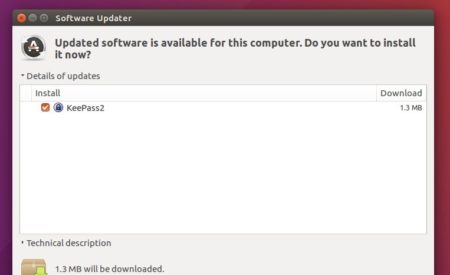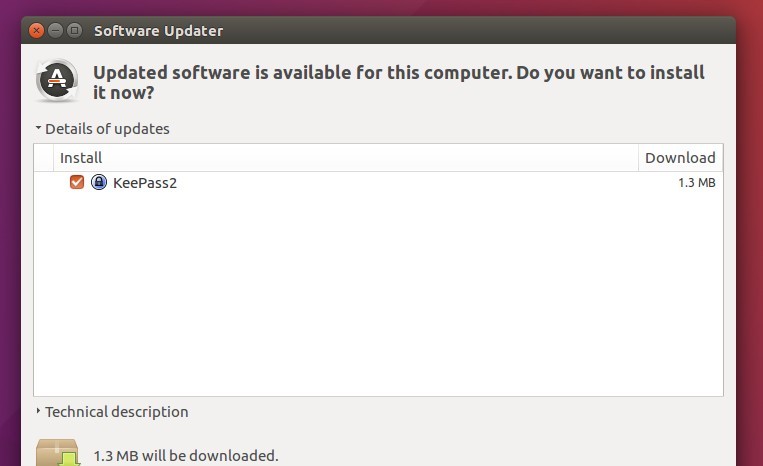 Or run commands to install / upgrade the software:
sudo apt-get update && sudo apt-get install keepass2
Uninstall:
The PPA repository can be removed via Software & Updates utility under Other Software tab.
To remove KeePass password safe, simply run command:
sudo apt-get remove --autoremove keepass2