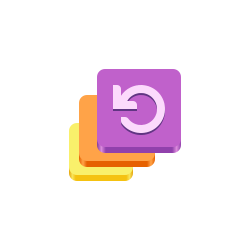 For personal data backup, Pika Backup is a simple GNOME app with an elegant user interface.
Pika Backup is free open-source tool to save your personal data into either local disk (e.g., an USB stick) or remote server using secure shell or sftp. As modern GTK4 apps, it has an adaptive UI design which is resizable and works great on different screen sizes & devices.
The utility is based on BorgBackup (aka Borg), features data de-duplication technique to save time and disk space since only changes are stored for daily backups. With the power of authenticated encryption technique, it also supports password protect for your data.
The app starts in a clean UI with a "Configure Backup" button to get started creating repositories to store backups. The top-left '+' icon is also present to do the same job.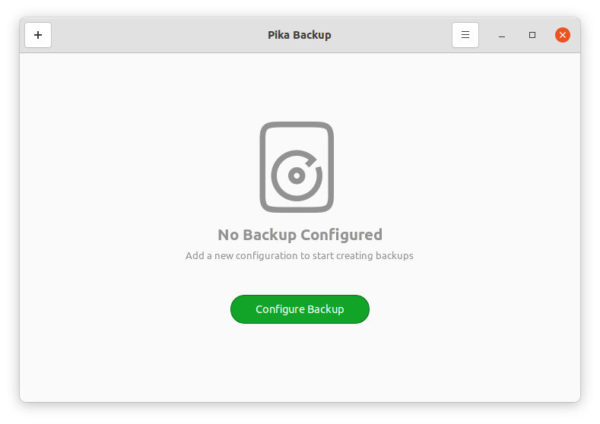 You data can be saved to a remote server via ssh remote file transfer by specifying URL, e.g., "ssh://[email protected]/~/backup", however borg need to be installed in the server side. For choice, the "sftp://" prefix can be used without borg.
Data can also be saved in local folder or removable devices, such as an USB drive. It will create a sub-folder in selected directory or device and save backup either encrypted or not. And, it will recognize the USB repository once you plug it in, allows you to either edit or select use the repository.
After creating / choosing the backup repository, it brings you to the file selecting screen. There you can choose any file folders, and exclude any for the backup. When you done data selection, click the green "Back Up Now" button to start. It indicates the process with how many percentage finished and how much time left.
Backups are stored in unreadable files in repositories. You have to open the Pika Backup tool to mount backups using "Browse saved files" under Archives tab. Then recover files or folder via opened file manager using copy & paste actions. This is not friendly in my opinion since no recover option present.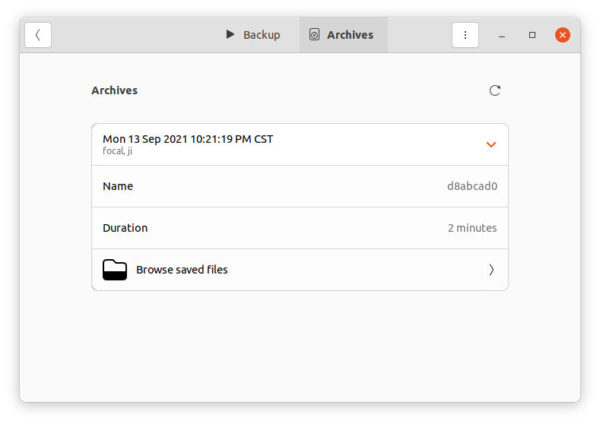 The utility has limitations. Scheduled backups are not supported so far, and excluding files from a backup via regular expressions and alike is not implemented yet.
Install Pika Backup in Ubuntu Linux:
The Pika Backup software is available for most Linux via the universal Flatpak package.
Open terminal either via Ctrl+Alt+T keyboard shortcut or by searching for and opening it from 'Activities' overview screen. When it opens, run following commands one by one:
1.) Install flatpak daemon, if you don't have it, by running command:
sudo apt install flatpak
For Ubuntu 18.04, users have to add the Flatpak PPA first.

2.) Next add the flathub repository, considered as official place hosts flatpak packages:
flatpak remote-add --if-not-exists flathub https://flathub.org/repo/flathub.flatpakrepo

3.) Finally install the backup utility via this command:
flatpak install flathub org.gnome.World.PikaBackup
Like normal apps, you can search for and open it from 'Activities' overview screen.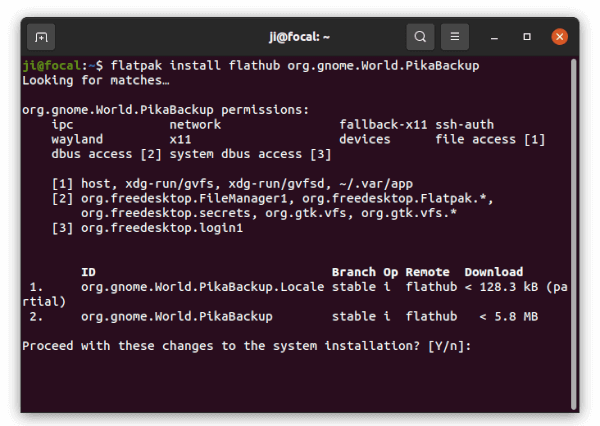 Uninstall Pika Backup:
To remove the software, paste the command below into terminal and hit run:
flatpak uninstall --delete-data org.gnome.World.PikaBackup
And you may clear up unused run-time by running command:
flatpak uninstall --unused