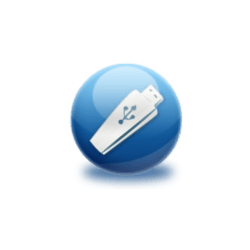 I used to create bootable Ubuntu USB installer with UNetbootin, then with Ubuntu' built-in USB creator. Now Ventoy is a good choice you should try!
Why Ventoy:
Different to other USB creators, you don't need to format your USB stick again and again to write data from ISO images. With Ventoy, it just format your USB one time, create a small (34 MB in my case) EFI partition, and leave all other spaces free in another partition.
Without extracting, just drag and drop to move ISO images into USB drive, and it will boot them! Like normal USB driver, you can put your photos and other data along with ISO images. Ventoy will find what to boot and show them all in startup menu.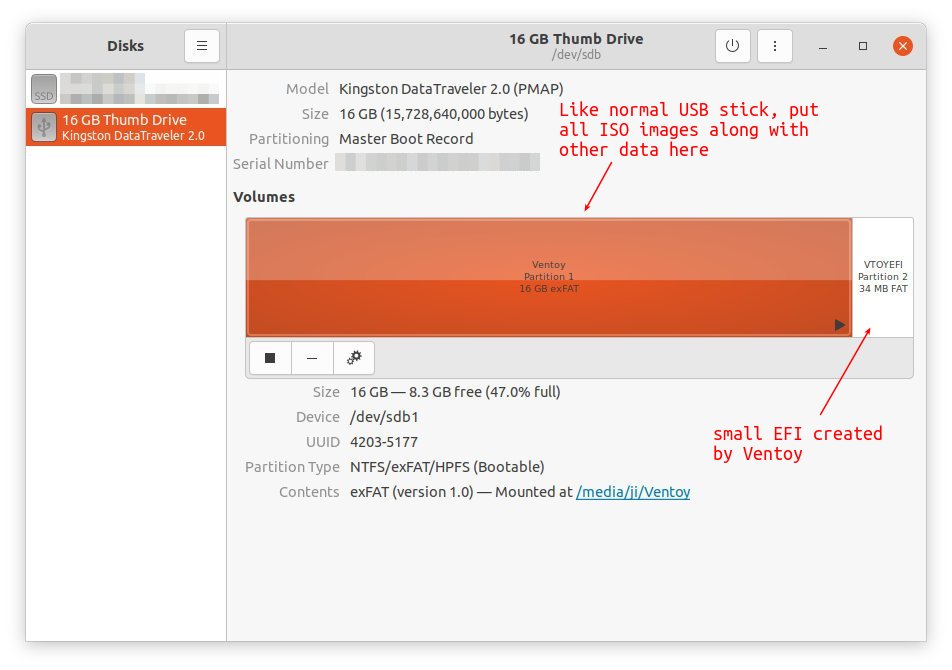 Ventoy features:
Ventoy is a free and open-source tool written mainly in C. It features:
Just copy ISO to USB and boot it! No extraction needed.
Mutil-boot support. As many ISO images as your USB stick can store.
Save all other data along with ISO images, just like a normal USB driver.
700+ ISO files supported (Windows, Linux, WinPE, Unix, Vmware, Xen).
Windows auto installation supported
Also support Local Disk, SSD, NVMe, SD Card
and more.
How to Install Ventoy:
The software provides ISO image as well as installers for Windows and Linux. Download them from the link below:
a.) Install Ventoy in Linux from command line:
For Linux users download the "linux.tar.gz" tarball. Then extract, and select 'Open in Terminal' from source folder's context menu.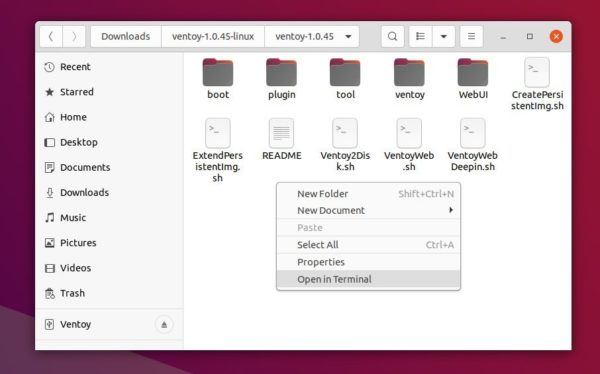 When terminal opens, run command to install Ventoy to USB:
sudo ./Ventoy2Disk.sh -i /dev/sdb
Though the device name of your USB stick is mostly
/dev/sdb
, check the terminal output, or use gparted,
mount
command, etc to confirm.
For USB device with GTP partition, use sudo ./Ventoy2Disk.sh -i -g /dev/sdb command instead.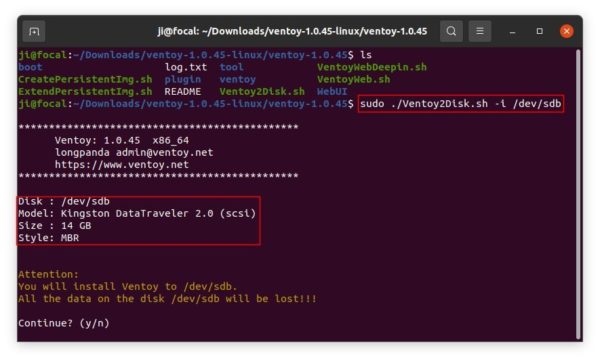 Type 'y' to confirm twice. If everything's done successfully, it will prompt 'Install Ventoy to /dev/sdb successfully finished.'
b.) Install Ventoy in Windows or Linux via Web UI
The software also has a Web UI which has same appearance to Windows EXE.
As the previous step did, download 'linux.tar.gz', extract and go to source folder. Then right-click on blank area to select 'Open in Terminal'.
When terminal opens, run command to start the Web UI service:
sudo ./VentoyWeb.sh
Next in web browser go to http://127.0.0.1:24680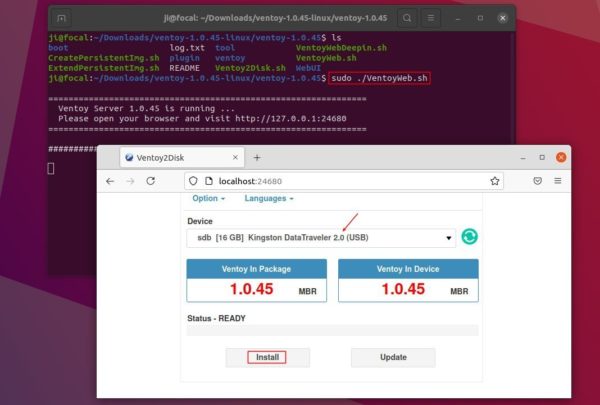 In the web UI, select your USB device and click 'Install'.
When everything's done, you'll find the USB driver mounted with name "Ventoy", put ISO images into it and enjoy!