OpenShot video editor released v2.6.0 with new computer vision, AI and audio effects. The official PPA has been updated with Ubuntu 21.10 support.
After more than one year of development, the free open-source video editor released its "finest" version. According to the release note, OpenShot 2.6.0 features:
New Computer Vision and AI effects (motion tracking, object detection, stabilization)
Audio Effects (compressor, expander, distortion, delay, echo, noise, EQ, robot, whisper)
New Zoom Slider widget (simple way to navigate around the timeline)
New Transform Tool (resize, rotate, move, origin point, shear, scale, zoom in/out)
Improved Snapping (while positioning, trimming, playhead)
New Caption video effect (rasterize captions on top of video)
Audio Bug Fixes (more crackling/popping fixes)
FFmpeg 4 Support, Updated Blender Support, WebEngine + WebKit support
Parentable keyframes (parent clips and keyframes)
Improved performance & stability (while rendering, ruler drawing, timeline zooming)
See What's New in OpenShot 2.6.0 via video:
How to Install OpenShot 2.6.0 in Ubuntu: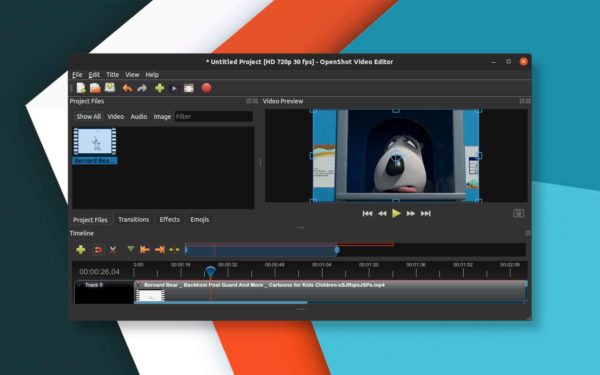 The video editor offers official Linux binary package via non-install Appimage.
However, the Ubuntu PPA is preferred and now supports for Ubuntu 18.04, Ubuntu 20.04, Ubuntu 21.04, Ubuntu 21.10, and derivatives, e.g., Linux Mint 20.
1. Add OpenShot PPA
Search for and open terminal either from start menu (Show Applications or 'Activities' overview screen), or by pressing Ctrl+Alt+T on keyboard. When it opens, run command to add the PPA:
sudo add-apt-repository ppa:openshot.developers/ppa
Type user password (no asterisk feedback) when it asks and hit Enter to continue.

2. Install / Upgrade OpenShot
After adding the PPA, you can either install the editor via command:
sudo apt install openshot-qt python3-openshot
NOTE for Linux Mint need to run sudo apt update manually to refresh package cache.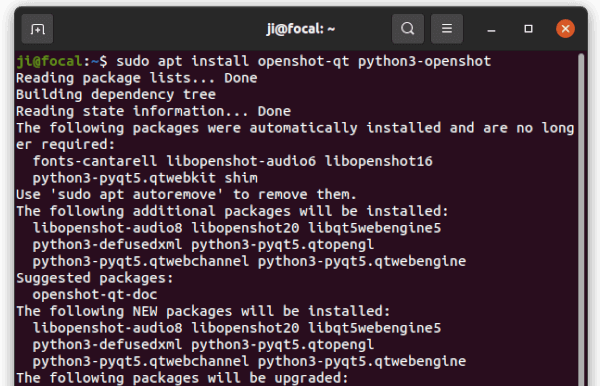 Or upgrade it via Software Updater (Update Manager) if an earlier version was installed.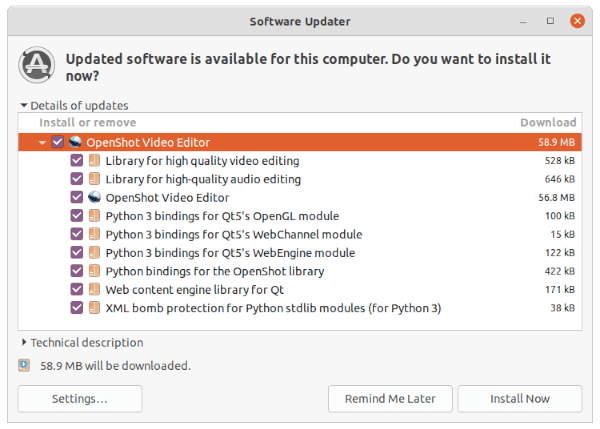 Uninstall OpenShot:
And to remove the video editor, simply run command in terminal:
sudo apt remove --autoremove openshot-qt python3-openshot
For the Ubuntu PPA, open "Software & Updates" and remove relevant line from 'Other Software' tab.